The High Water continues
Be Careful what you wish for....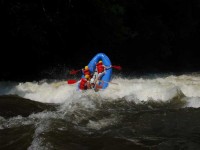 That was the theme for the weekend as we had not 2" of rain on Thursday night but over 4.5 " in 24 hours. Needless to say everything flooded big. It was a scramble to find rivers low enough to run on Friday, that were safe. The Savage went to almost 5000 cfs which is big enough to move rocks. The Cheat was over 10 ft in Albright which is around 25,000 cfs. The Big Sandy was over 10 ft and about 5000 cfs too, and the winner of them all was the Upper Yough which crested at just over 7,000 cfs which is enough to move around some of last years log jams. We had a good weekend on the North Branch of the Potomac and Casselman river at big flows which makes easy river seem hard.
We will certainly have water all week going into Memorial Day weekend and this one will be memorable. I have not seen this much water in the rivers in a long time.
We still have room on Friday and Saturday for the Upper Yough and the Cheat will hold at great levels for "Sunday so jump start your summer by getting in on some really awesome rafting with the best conditions for this time of year in the last several years!
Give us a call 800-477-3723 or This email address is being protected from spambots. You need JavaScript enabled to view it. when you can. We'd love to show you a great time and it will be amazing.
This will be a fun time so don't delay call today.
Roger