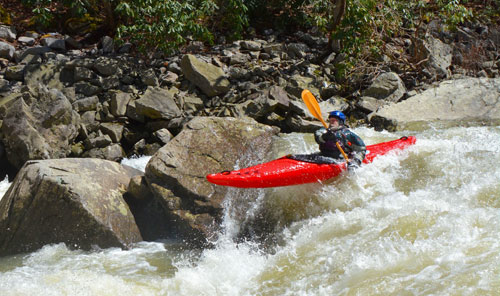 Rafted all the rivers? Looking to go to the next level? Why not try a whitewater or flatwater river kayaking trip in Friendsville, MD, or WV! Kayaking is a great way to explore rivers and lakes and get a great workout as well. Precision Rafting's paddling school, know as the Friendsville Paddling School can get you started. We specialize in beginners kayak training, with kayaking lessons in Friendsville, MD from some of the best teachers around. Our instructors will have you on your way to a new experience in a fun and safe enviroment. We offer full day and 1/2 day lessons as well as guided river trips to teach on the go. At the Friendsville Paddling School, kayaking is more than a job, it is a way of life!! Let us teach you and show you a great time learning to paddle with our trips and kayaking lessons in Friendsville, MD, and WV.
---
Available Kayaking Classes
---
---
Available Kayaking Trips
---
Try a Thrillseeker the finest and most easily controlled inflatable kayak made.
The ultimate ride. Paddle with an expert in a two person kayak in big rapids! Yee hah! 3-4 hours
we can create an experience that fits your needs perfectly. We have special group rates, and provide packages including lodging, meals and river trips.