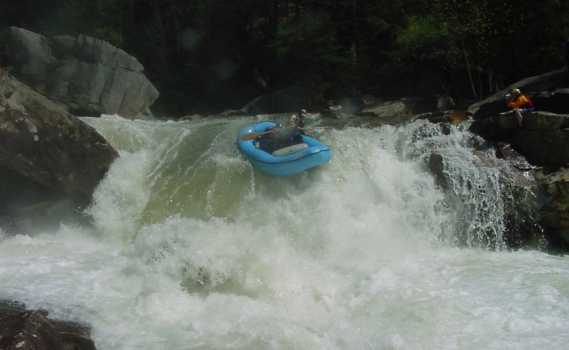 CLASS: 4 - 5
GRADIENT: 2 miles at 30 ft per mile, 4 miles at 80 ft per mile
VOLUME: 500 -1200 cfs
SEASON: April - May, summertime after rain storms, Fall
SCENERY: Extremely remote , Beautiful pristine hardwood forests
TIME: 5-6 hrs
LENGTH: 6 miles
The Lower Big Sandy is one of the most remote and pristine rivers in all of West Virginia. With five of the most distinctive and memorable class 4 and 5 rapids on the entire east coast the Lower Big Sandy offers the expert rafter a lifetime of adrenaline packed rafting memories. The Lower Big Sandy starts off with a mile of class 3 rapids that build into big ledges that come to a climax at Wonder Falls. The river now goes for the next mile with some serious drop pool rapids that end with another big water fall named Big Splat. In that mile loop are some truly awe inspiring rapids, Zoom Flume, Little Splat and the Undercut Rock rapid to name a few.
Around the early 1900's the Big Sandy was a vital resource for logging industry. Saw mills and timber production dominated the area. A major route to Morgantown WV this was a hub of activity before disappearing in the early 1930's. Rafting and Kayaking have started to make Rockville a popular place again. This section of river is hard to catch but well worth it when you do.
---
Lower Big Sandy River Photo Gallery
---