The Cheat Canyon River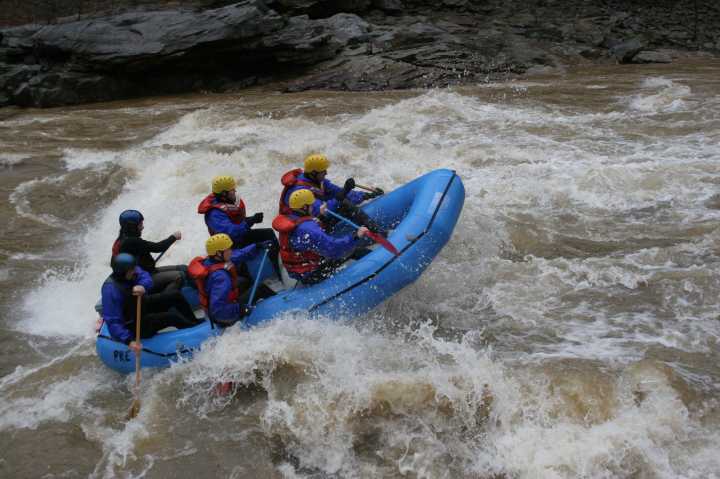 CLASS: 3-5
GRADIENT: 30 ft. per mile
VOLUME: 850-6000 cfs
SEASON: April - June
SCENERY: Wilderness remote canyon
TIME: 5-7 hrs
LENGTH: 11 mile
The Cheat Canyon comes to life in late March, it peaks in April and early May then tapers to more a manageable intermediate level in late May and early June. The Cheat Canyon is one of the last remaining wilderness canyons on the east coast. With over 1000 sq miles of drainage this is one of the bigger watersheds in WV. The Canyon which was remodeled by the flood of 1985, is one of the largest uncontrolled water sheds in the eastern US. The Cheat rivers flows through a remote and wild canyon as it makes it way north to help form the Ohio river in Pittsburgh PA.
One of the first commercially rafted rivers in WV the Cheat has seen it all, from self guided raft trips of the 1970's to a guide in every boat after the big flood 1985.
The Cheat Canyon is a pool drop river with several big drops to negotiate, lots of long wave trains make this a truly awesome section of river! With such a large amount of acreage to drain, the Cheat Canyon is very quick to rise after good rain shower in the headwaters.
June and July lend itself to lower flows for duckie trips and small rafts. The Cheat Canyon has many different moods and it is always a different ride no matter how many times you raft it. The Cheat, with an impressive vertical drop of 300 ft in ten miles is a true WV gem.
---
Cheat Canyon Photo Gallery
---
Cheat Canyon River Map