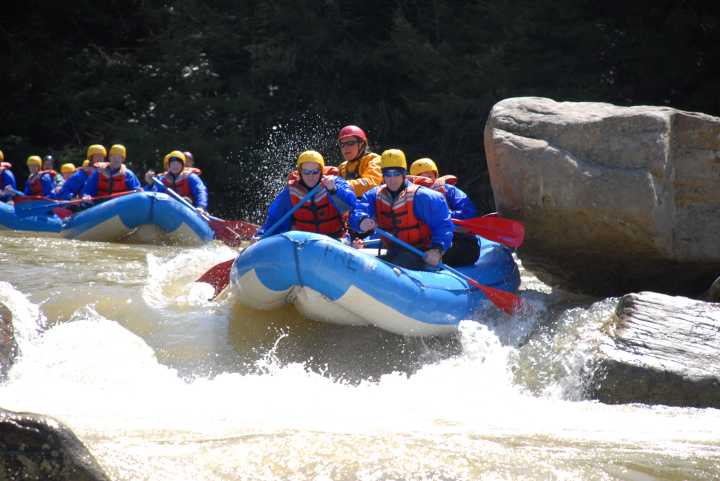 CLASS: 1-4
GRADIENT: 4 miles @ 10 ft, 2 miles @45 Ft
VOLUME: 600 cfs - 4000 cfs
SEASON: April - early June
SCENERY: Rural and Wild
TIME: 3-5 hrs
LENGTH: 6 miles
The Upper Big Sandy river is a slow flowing flat water stream for the first two miles. As the first rocks start to appear the river starts to pick up some gradient and rapids begin to form. Once you leave the town of Bruceton Mills, WV behind the river takes on a more wilderness persona. Laurel and rhododendron choked banks give way to tall hemlocks and spruce trees. As the rapids go from boulder gardens to ledges the river grows in volume and before long you start to feel the power. After the Little Sandy joins in the ledges get bigger and the drops are more blind. After a short section of ledges the boulder gardens come back and it is a non stop slalom run to the end of the trip at Rockville. Rockville at the turn of the 1900's was a busy logging center and one of the major routes to Morgantown WV. Now days this route is one of the most primitive roads you can travel in WV and still think you are on a road. The ride out of here is as exciting as the river trip it self. The Upper Big Sandy is a hard river to catch at good levels but when you do you won't soon forget it.
---
Upper Big Sandy Photo Gallery
---